Best Inflatable Kayaks for Beginners
We've reviewed the best beginner inflatable kayaks, comparing performance, durability, and cost. Top picks from Sea Eagle, BOTE, Intex, and more.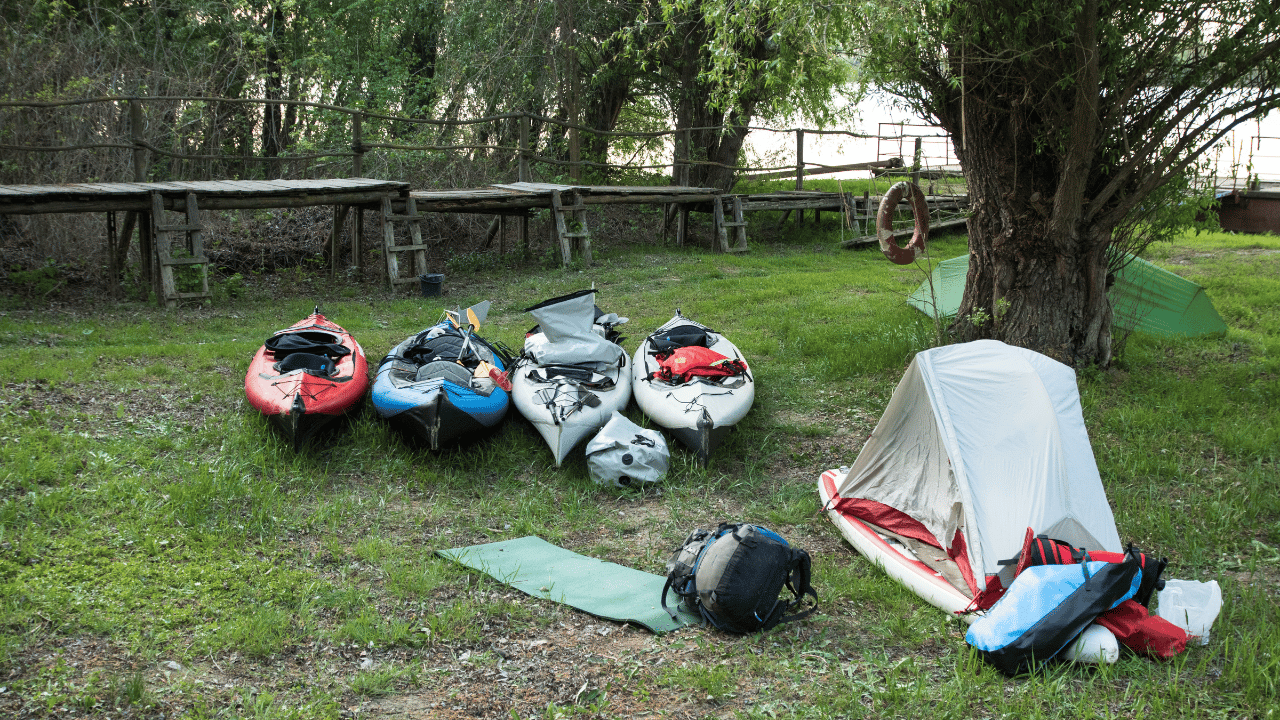 Blending functionality, portability, and versatility into one neat package, inflatable kayaks are popular among paddlers who want to make the most of their time on the water.
However, with hundreds of different inflatable kayaks available today, selecting just one for your adventures isn't always easy.
So we've researched and reviewed the best inflatable kayaks on the market. That way you can spend more time on the water and less time shopping.
Our Top Picks
If you're in a hurry, here are our top picks. Or continue scrolling to see our full list with in-depth reviews.
Best Overall: Advanced Elements AdvancedFrame
Length: 10'5″ | Width: 32″ | Weight: 36 lbs | Capacity: 300 lbs
Taking home gold in our review, the Advanced Elements AdvancedFrame is an innovative sit-in inflatable kayak that doesn't skimp when it comes to performance.
With the AdvancedFrame, you get a hybrid between a classic inflatable and a folding frame kayak. Thanks to the kayak's aluminum reinforcements at the bow and stern and its built-in skeg, it's sturdy enough to cruise through rough ocean waves while maintaining a superior tracking ability.
Advanced Elements crafted this kayak out of their proprietary three-layer rip-stop fabric to help ensure puncture resistance on the water. For paddlers that want even more durability, the AdvancedFrame is also compatible with the company's BackBone and high-pressure floor accessories, both of which offer increased ruggedness as you paddle.
As far as functionality goes, the AdvancedFrame even has a small integrated storage compartment behind the seat and plenty of deck bungees for stashing gear. It also comes with its own highly convenient storage bag for easier transport on the go.
The sit-in AdvancedFrame can be pretty challenging to drain of water if you're paddling in wet conditions. However, the company does separately sell a spray skirt for the kayak to counter this problem. So if you want a kayak that can handle a range of conditions, this is one kayak you won't want to miss.
Best Budget: Intex Challenger K1
Length: 9' | Width: 30″ | Weight: 28 lbs | Capacity: 220 lbs
Offering a superb mix of value and performance, the Intex Challenger K1 is an inflatable kayak that's perfect for short recreational paddles.
Built from a durable puncture-resistant vinyl construction, the Challenger K1 is rugged enough for a wide range of adventures. It also has an inflatable I-beam floor to provide extra stability, comfort, and durability as you move through the water.
Intex engineered this kayak to have a wide, mostly rounded hull with high-buoyancy side chambers for improved stability on flat water. As a result, it's a popular and stable choice for cruising around on lakes and gentle streams.
The Challenger K1 also comes with plenty of comfort-focused features. It has an adjustable and inflatable seat to help you get ample lumbar support as you paddle. Additionally, the kayak's relatively large and partially open cockpit makes it suitable for people who prefer not to be enclosed inside a proper sit-in kayak.
However, this kayak offers relatively little by way of gear storage. It has a small deck bungee on the bow, but storage space is limited. It also has a low maximum weight capacity of 220 lbs, so it's not ideal for all paddlers. But, the Challenger K1 is hard to beat when it comes to budget-friendliness and quality.
Best Touring: Advanced Elements AirFusion Evo
Length: 13' | Width: 24″ | Weight: 32 lbs | Capacity: 235 lbs
For those who like to head out on longer paddles or kayaking expeditions, the Advanced Elements AirFusion Evo is a high-quality touring kayak worthy of your consideration.
Designed specifically with performance in mind, the AirFusion is an innovative boat engineered to mimic the tracking abilities of a hard-shell kayak without sacrificing portability. It's made with Advanced Elements' proprietary drop-stitch technology, which allows the kayak to act effectively like a hard-shell when inflated.
This kayak also boasts a V-shaped hull that provides ample secondary stability and speed in choppy water. At the same time, its longer length offers ample tracking ability, especially when combined with the kayak's removable hull fin.
When it comes to touring kayaks, what sets this boat apart is that it packs down into an impressively small size. It even comes with a rolling carry case and a compact hand pump so you can easily transport it to wherever your adventures might take you.
The primary drawback to a kayak like the Air is its high price point. That being said, while the AirFusion isn't exactly the most affordable inflatable kayak out there, it's a reliable choice for folks looking to take their paddles into more remote waters.
Best for Whitewater: Sea Eagle Explorer 300x
Length: 9'10″ | Width: 39″ | Weight: 30 lbs | Capacity: 395 lbs
When cruising down whitewater is your idea of a good time, the Sea Eagle Explorer 300x is the ideal inflatable whitewater kayak for your river runs.
Rated for use in up to class IV whitewater, the Explorer 300x is a durable kayak crafted for extreme environments. It's made with 1000D reinforced vinyl, and it has a modular drop-stitch floor. So, it can handle frequent bumps and scrapes against sharp rocks as you paddle.
Due to the kayak's rounded hull and shorter length, the Explorer 300x is also highly maneuverable. This makes it a solid choice for use in tricky terrain and anyone looking to hone their paddling technique. The Sea Eagle's wide hull design also allows for improved stability on flat water. As a result, it's also great for fun paddles on a local lake.
The Explorer 300x comes with a super comfy and adjustable seat. In addition, the seat can be inflated as much or as little as you'd like, so it's an excellent choice for people who need ample lumbar support on the water.
Do note, though, that the Explorer 300x's rounded hull and short length mean that it doesn't track well, despite its removable skeg fin. It also has limited gear storage space, so it's not great for longer paddling trips. However, this kayak is a sure bet if whitewater paddling is how you like to get out and explore.
Best Kayak/SUP Hybrid: Bote Deus Aero
Length: 11' | Width: 33″ | Weight: 41 lbs | Capacity: 300 lbs
Love kayaking but also appreciate paddleboarding from time to time? The Bote Deus Aero might be the paddle board kayak hybrid you're looking for.
This innovative inflatable kayak/SUP hybrid offers the best of both worlds for paddlers who love mixing things up while on the water. Engineered to perform just as well as a sit-on-top kayak as it does as a stand-up paddleboard, the Deus Aero is the perfect choice for people who like to maximize their fun on the water.
The Deus Aero offers a kayak crafted from military-grade PVC skin and AeroBOTE technology. That might sound like a lot of technical jargon, but it basically means that it can pack down into a backpack for storage and inflate into a rigid kayak or SUP for performance on the water.
While on the water, the Deus Aero has a unique, mostly flat hull with a self-bailing cockpit for stability and convenience as you paddle. It also has an elevated seat with an adjustable backrest for premium comfort and functionality as you cruise through scenic coves. Plus, you can quickly convert it into a SUP in a matter of seconds for a unique experience on the water.
That being said, the Deus Aero is both heavy and expensive for an inflatable kayak, which is something to keep in mind before you buy. We should also mention that the kayak's flat hull is unsuitable for use in harsh weather. Nevertheless, if having a good time and relaxing on the water is your goal, it's hard to imagine a more suitable kayak than the Deus Aero.
Best Tandem: Advanced Elements AdvancedFrame Convertible
Length: 15' | Width: 32″ | Weight: 52 lbs | Capacity: 550 lbs
Your go-to kayak for tandem paddles on your local lake or the open ocean, the Advanced Elements AdvancedFrame Convertible is a premium inflatable kayak that's ready for any outing.
Featuring the same great design as the solo version of the AdvancedFrame, this convertible model is engineered to be paddled with one to two people. As a result, it's a highly versatile option suitable for anyone looking to get one kayak that can do it all.
Thanks to Advanced Element's optional Conversion Deck technology, this kayak can also be paddled as either a sit-in or sit-on-top. This feature allows you to customize your kayak to suit your paddling style and the current sea conditions.
As far as performance goes, this kayak also comes with a V-shaped hull and skeg that allow for improved tracking and secondary stability in rough waters. It also boasts the company's uber-durable three-layer fabric and integrated aluminum frame to provide extra ruggedness as you paddle.
Like all kayaks, however, there are aspects of the AdvancedFrame Convertible that don't quite impress. In particular, this kayak is quite heavy, even when paddled as a tandem. Therefore, while it does pack down small, it's not ideal if weight savings are your concern. But when it comes to performance as a tandem inflatable kayak, this is a must-have.
Inflatable Kayak Comparison Table
Inflatable Kayak Buying Advice
With so many great inflatable kayaks available today, it's imperative that you know what to look for as you shop. But with so many different features to consider, selecting just one kayak can be tricky.
To help you out, here's a complete insight into everything you ought to consider as you search for your next inflatable kayak.
Sit-In vs. Sit-on-Top
The first thing you need to ponder when purchasing a kayak is whether you want a sit-in or a sit-on-top.
Although inflatable kayaks were historically sit-on-top boats, paddlers can now access a wide range of sit-in models, thanks to advancements in manufacturing techniques. Companies like Advanced Elements have pioneered a new generation of sit-in inflatable kayaks, many of which offer similar performance characteristics to their hard-shell counterparts.
That being said, sit-in and sit-on-top kayaks both serve a unique type of paddler. While some paddlers prefer the convenience of a sit-on-top model, others appreciate the enhanced performance abilities of sit-in kayaks.
So, which type of kayak should you choose?
Well, it depends. Suppose you want to paddle in various conditions, including on choppy waters. In that case, a sit-in kayak is probably the better option. These sit-in kayaks provide more shelter from foul weather and allow for better control of the kayak when paddling long distances.
On the other hand, sit-on-top kayaks tend to be popular among flat water and recreational paddlers. This is because they are easier to get in and out of, which is ideal if you're prone to capsizing. Plus, sit-on-top kayaks tend to be wider and more stable, making them an excellent choice for people that want a more comfortable platform on the water.
Solo vs. Tandem
After determining if a sit-in or a sit-on-top inflatable kayak is suitable for your needs, you then need to decide whether you'd prefer a solo or a tandem model.
As with the sit-in vs. sit-on-top debate, there's no universal answer as to whether you should get a solo or a tandem kayak. Instead, you need to consider whether you prefer to go kayaking alone or with friends before making your decision.
However, do keep in mind that some kayaks, such as the Advanced Elements AdvancedFrame Convertible, can be paddled either solo or tandem. So, if you want one kayak that can handle a wide range of conditions, opting for a convertible model might be a good option.
Intended Use
These days, there are hundreds of different kayaks on the market, each of which is designed to meet the needs of a specific type of paddler. Therefore, honing in on what you plan to use your kayak for can help direct you toward the right one for your adventure style.
For example, people who prefer to paddle whitewater might want a highly durable and maneuverable kayak, like the Sea Eagle Explorer 300x. Meanwhile, folks who enjoy longer paddling adventures into more remote locales will likely find that the speedy Advanced Elements AirFusion Evo is a better choice.
Of course, this doesn't mean that you need to have a different kayak for every type of paddling you enjoy. But, determining the primary intended use of your kayak before you buy will ensure that you have the right one for your needs.
Stability, Maneuverability & Tracking Ability
Stability, maneuverability, and tracking ability are essential considerations for any kayak, and inflatable kayaks are no exception.
That being said, it's important to remember that every manufacturer needs to strike a balance between all three performance characteristics when designing their kayaks.
For example, stability in a kayak comes down to two key factors: its width and hull shape. In particular, wide kayaks with flat hulls provide more stability on flat water. Meanwhile, narrower kayaks with V-shaped hulls offer more stability on choppy seas.
At the same time, the maneuverability and tracking ability often comes down to the length of a kayak and its hull design.
Shorter kayaks with flatter hulls are often more maneuverable than their longer cousins with V-shaped hulls. This is partially a result of these kayaks' shorter turning radius, making navigating obstacles in the water easier.
However, this enhanced maneuverability often results in a decrease in tracking ability. That's generally because longer kayaks with V-shaped hulls are less likely to get blown around in the wind, pushing them off course.
Furthermore, long kayaks, which are slightly harder to turn, also naturally move in more of a straight line. So, they're ideal for longer paddles where getting from point A to point B with maximum efficiency is of the utmost importance.
Ultimately, no single kayak design is best for all paddlers.
As you can imagine, a short kayak with a flatter hull is often the better choice for recreational use, thanks to its stability and maneuverability. Meanwhile, longer kayaks with V-shaped hulls are often better for touring.
Weight & Portability
A key selling point of most inflatable kayaks is their portability. Compared to hard-shell kayaks, the fact that you can inflate, deflate, and pack it away into a small carry case makes these kayaks much more practical for a range of paddlers.
However, even within the realm of inflatable kayaks, there are still significant differences between the portability of different models.
While some kayaks, like the Intex Challenger K1, are reasonably lightweight, others, such as the Advanced Elements AdvancedFrame Convertible, are pretty hefty.
So, while all these kayaks tend to pack down to a relatively small size, you'll still want to consider their total weight before buying. For some folks, the difference between a 25 lb kayak and a 50 lb kayak may not be a big deal. But, if you're concerned about your ability to transport your kayak to and from launch safely and easily, it might be worth investing in a lighter kayak.
Gear Storage
For many paddlers, gear storage options are a must-have for any kayak. That's because efficiently storing camping, fishing, and similar equipment on a kayak can significantly limit or expand your adventure opportunities.
Nevertheless, gear storage is often an area where inflatable kayaks tend to lag behind their hard-shell counterparts. While hard-shell models often have forward and aft dry hatches and tank wells, many inflatable kayaks are highly limited in their gear storage options.
This isn't true of all inflatable kayaks, though, and some models, like the Advanced Elements AirFusion Evo, offer a decent amount of gear storage. But the issue of gear storage is important to keep in mind as you shop for an inflatable kayak if you suspect that you'll need to transport large amounts of equipment during your paddles.
Durability & Warranty
If you're going to invest your hard-earned money in a big-ticket item like an inflatable kayak, you want to be sure that it will last throughout years of paddling.
Of course, durability is an essential aspect of any kayak, so inflatables aren't alone in this regard. But the air-filled nature of inflatable kayaks poses a unique challenge for durability. Indeed, many paddlers are concerned that their inflatable kayak is more likely to puncture or be damaged on the water than a similar hard-shell model.
Thankfully, many modern inflatable kayaks are designed specifically with ruggedness in mind. Therefore, most models on the market are made with extra-thick and multi-layered fabrics to relieve you of your durability concerns.
With that in mind, there are some important durability-related features you can look for in an inflatable kayak to help you determine whether a particular model is worth your money.
For example, it's always worth considering the fabric thickness of any inflatable kayak. Many manufacturers will list the thickness of their kayak's PVC or vinyl fabric in deniers, which is written as a "D" after a number (e.g. 1000D). The higher the denier count, the thicker and generally more durable the fabric.
You can also look for drop-stitch kayaks. Drop-stitch technology is effectively a unique sewing method that creates a super-strong bond between multiple layers of fabric. As a result, kayaks made with this technology are extra durable. They can also be inflated to much higher pressures, allowing them to mimic the performance of a hard-shell kayak.
Finally, you may also want to consider a manufacturer's warranty before investing in an inflatable kayak. Most companies offer at least a two-year warranty on their gear and access to affordable repairs after the warranty expires. This added assurance can go a long way toward your confidence while paddling around with your new kayak.
The Verdict
In recent years, inflatable kayaks have become one of the most popular types of paddle craft, and for good reason: They're versatile and functional enough for nearly any water-based outing.
But as we've seen, there are countless superb inflatable kayaks for you to choose from, so it's easy to feel overwhelmed by your options. However, after reviewing the best inflatable kayaks available, we've determined that the Advanced Elements AdvancedFrame is the best in the business.
What makes the AdvancedFrame stand out among the pack is that it offers a great blend of performance and portability.
Like all inflatable kayaks, the AdvancedFrame packs down small. Still, its convenient storage bag and modest weight make it an especially nice choice for an array of paddlers. We also particularly like that it is a sit-in kayak with superior tracking abilities, making it an excellent option for recreational paddlers in many environments.