Best Modular Kayaks
We've reviewed the best modular kayaks on the market, featuring top picks for portability, performance, and versatility.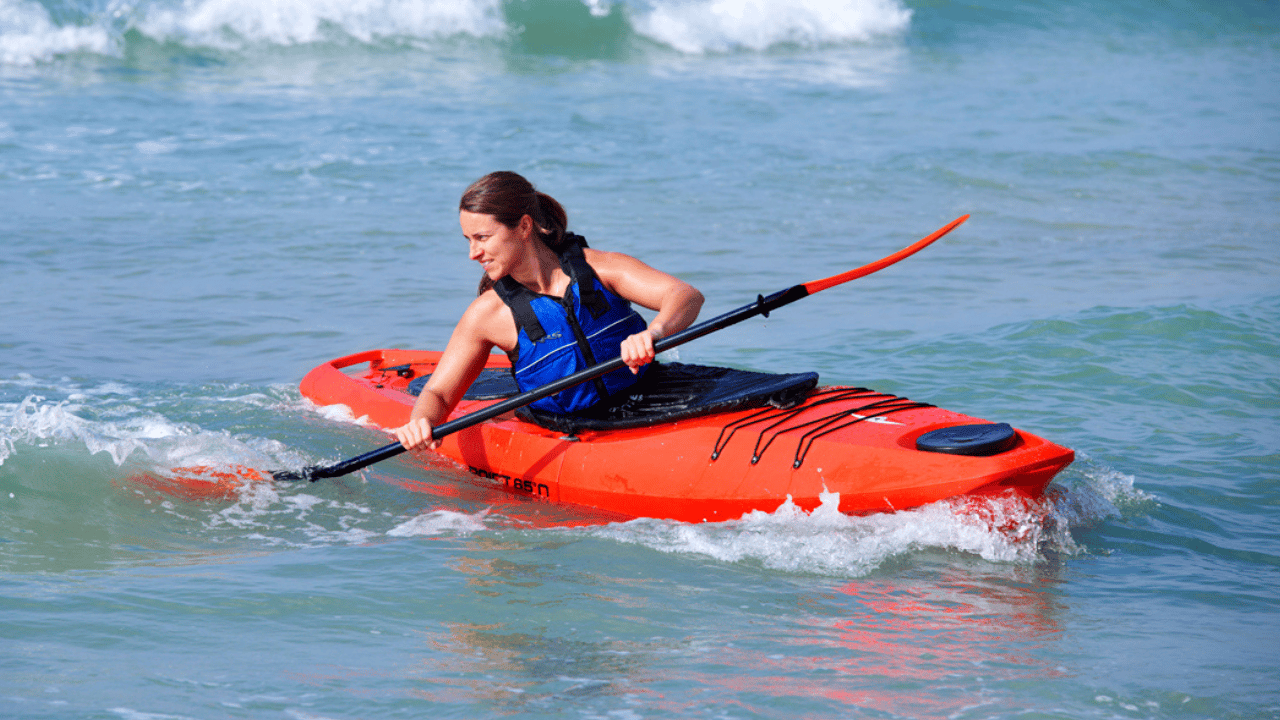 In the short amount of time modular kayaks have been on the market, their superior portability and functionality have made them a popular option among paddlers.
However, deciding which modular kayak is right for you isn't always easy. Since these innovative kayaks often come jam-packed with features, it can be tricky to know precisely which one to opt for.
So we've reviewed the various models available and put together this list of the best modular kayaks on the market.
Our Top Picks
If you're in a hurry, here are our top picks. Or continue scrolling to see our full list with in-depth reviews.
Best Overall: Point 65 Martini GTX
Length: 9'4″/13'8″ | Width: 27.6″ | Weight: 59/77 lbs | Capacity: 265/530 lbs
When it comes to all-around performance, the Point 65 Martini GTX is hard to top.
One of Point 65's most popular kayaks, the Martini GTX is a fully-featured recreational kayak suitable for a range of adventures. It can easily convert into a tandem kayak for two-person paddles, but it's just as fun to paddle on your own.
Thanks to its wide, slightly rounded hull, the Martini GTX is decidedly stable in the water. Simultaneously, its slightly rounded hull provides a decent amount of nimbleness as you paddle.
As far as comfort goes, the Martini GTX doesn't disappoint. Even though it is a sit-in kayak, it has a large, spacious cockpit for increased legroom as you paddle. It also comes with the company's proprietary AIR-Backrest seat, which can be adjusted to help you get the perfect seating position.
This kayak also comes with a host of other features, such as plentiful dry storage, in-seat cup holders, and paddle holders. It even comes with some fishing-specific features, such as a fish ruler, to cater to the anglers among us.
That being said, the relatively short length of the Martini GTX when paddled solo does detract from its tracking ability in the water. Additionally, it's pretty heavy for a kayak, which is something to consider before you buy. But if you want one kayak that can do it all, the Martini GTX is a solid contender.
Best Sit-on-Top: Point 65 Tequila! GTX
Length: 9'7″/13'6″ | Width: 29.5″ | Weight: 48.5/77 lbs | Capacity: 265/530 lbs
For paddlers that prioritize comfort and convenience above all else, the Point 65 Tequila! GTX sit-on-top kayak is a sure bet.
Decidedly versatile, the Tequila! GTX, like most Point 65 kayaks, can be paddled solo or tandem. However, this kayak's sit-on-top design makes it especially well-suited for fun paddles on flat water during the summer months.
In particular, the Tequila! GTX's mostly flat hull and proprietary tracking keel provide it with the ideal mix of stability and performance on the water. The deck of the kayak also has molded-in footrests to help with maneuverability as you paddle.
The kayak comes with an AIR seat, which blends comfort and lumbar support into one great package. This AIR seat also has an adjustable backrest with EVA foam padding to ensure the end of your paddling adventure is just as comfortable as the beginning.
When it comes to functionality, this kayak brings its A-game. It has plenty of deck space in both its solo and tandem forms for storing gear, including coolers and other supplies for a day of fun in the sun.
Nevertheless, we should mention that the Tequila! GTX isn't particularly great at tracking in the water on windy days. It also doesn't offer much stability in choppy conditions, so it's not ideal for more exposed locales. However, it's still a great choice for folks looking for a recreational sit-on-top kayak that's easy to transport to and from launch.
Best Touring: Point 65 Mercury GTX
Length: 13'6″/18′ | Width: 23.6″ | Weight: 55/77 lbs | Capacity: 286/530 lbs
If kayak expeditions and long days on the water are your idea of a good time, the Point 65 Mercury GTX is worthy of your consideration.
This rugged touring kayak is specifically designed for longer kayak adventures where performance is of the essence. Its longer length, both as a solo and tandem kayak, offers superb tracking in coastal waters. Meanwhile, its V-shaped chined hull provides much-needed stability in choppy seas.
For increased performance in windy weather, the Mercury GTX also has an integrated symmetry skeg system. This innovative system allows you to quickly drop the skeg whenever necessary for improved tracking when paddling in a crosswind.
Point 65 also designed this kayak to have their patented AIR seat. Unlike most touring kayaks, which sacrifice some comfort in favor of performance, the fully adjustable AIR seat with its durable, breathable fabric shows us that comfort and functionality can go hand in hand.
Since the Mercury GTX was crafted with kayak touring in mind, it comes with a full complement of gear storage options. It has a forward and an aft hatch, both of which create convenient dry storage locations for all your gear while on the water.
We should note, however, that this kayak doesn't come cheap. It also has a low maximum weight capacity when paddled solo, which can be a concern if you plan to pack a lot of gear. However, when you're heading out on a day of kayak touring, the Mercury GTX is the modular kayak you want to have with you on the water.
Best for Fishing: Point 65 Tequila! GTX Angler
Length: 9'7″/13'6″ | Width: 29.5″ | Weight: 48.5/77 lbs | Capacity: 265/530 lbs
For the anglers among us, the Point 65 Tequila! GTX Angler is one kayak you won't want to overlook.
Specifically designed to be your best friend on the water while casting lines, the Tequila! GTX Angler comes with a host of fishing-specific features. These include a set of two flush-mounted rod holders behind the seat and a deck-mounted holder in the kayak's front section.
Additionally, the deck-mounted rod holder on this kayak can easily be replaced with other equipment, such as a fish finder or GPS, to help you make the most of your time on the water. The kayak also comes with plenty of deck-top storage space for your fish coolers and other vital gear.
When it comes to paddling, the Tequila! GTX Angler is also a reliable vessel for any adventure. Its mostly flat hull provides ample stability in calm waters, while its paddle park feature allows you to securely store your paddle when you stop for a quick break during your travels.
For added comfort, Point 65 also gave this kayak their premium Comfort GTX AIR-Seat to help you take your adventures to the next level. These seats are uber-comfortable, thanks to their breathable honeycomb patterned material. They're also fully adjustable for enhanced lumbar support on the water.
But we're not entirely impressed with the Tequila! GTX's lack of built-in gear tracks, which are helpful for quickly installing fishing-specific gear to a kayak. However, despite this shortcoming, this kayak is a reliable choice for anglers who want a portable option for their paddle-based adventures.
Best Pedal: Point 65 Kingfisher
Length: 11'/16′ | Width: 31″ | Weight: 70/108 lbs | Capacity: 287/573 lbs
Arguably the most unique option on our list, the Point 65 Kingfisher is a pedal-powered kayak that's perfect for those casual flatwater outings.
With the Kingfisher, you get a rugged, performance-centric kayak that comes complete with a set of Impulse Drive pedal-powered propellers. When using the pedal drive function of the Kingfisher, you can easily turn, maneuver, and reverse with the hand-controlled rudders as you cruise through the water.
The kayak can also be maneuvered by paddle, so it's a versatile choice for a whole host of water-based activities. Plus, the Kingfisher has a relatively sleek design that allows it to be agile enough for use in tricky waters.
Point 65 also engineered this kayak with a trimaran hull, which offers exceptional stability as you pedal or paddle. This makes it the ideal choice for a range of paddlers, including kayak anglers that need a stable platform for casting lines.
If all that wasn't sufficient, the Kingfisher also comes with a sweet Kingfisher Game Chair, which is one of the most well-padded seats on the market. This seat also raises you off the deck of the kayak for better visibility as you pedal.
With all that in mind, it's worth remembering that the Kingfisher is neither lightweight nor particularly affordable. Its wide hull and high seat also make it less-than-suitable for windy conditions. However, if you want a pedal-powered kayak for your adventures, it's hard to imagine something better than the Kingfisher.
Modular Kayak Buying Guide
If you're going to invest in a modular kayak, it's important that you get the right one for your needs and paddling style. As a result, you must have a solid idea of what to look for as you shop. Here are a few key features to look out for as you search for a modular kayak.
Intended Use
These days, modular kayaks come in a whole host of different shapes and sizes. While this exceptional array of choices means that it's possible to get a kayak that's perfectly tailored to your needs, it also makes the shopping process a bit more complicated.
In particular, it's important that you know precisely what kind of paddling you hope to do with your new kayak.
For example, if you're the type of person that enjoys casual days on the water, a recreational or sit-on-top kayak might be ideal. On the other hand, folks that enjoy casting lines while on the water will likely prefer a fishing kayak that comes with a range of angling-specific features.
So, while there's no one kayak out there that's perfect for everyone, having a general idea of what you want to use your kayak for can help you narrow down your choices to a model that's right for you.
Paddler Capacity
Every kayak on the market has a stated paddler capacity. These days, the vast majority of kayaks can accommodate either one or two paddlers, depending on their seat layout and design.
However, if you're in the market for a modular kayak, you'll often find that you can quickly adjust it to accommodate either one or two paddlers.
Modular kayaks are designed to fit different sections that can be pieced together or taken apart, sort of like a jigsaw puzzle. The inner section of these kayaks often carries a second seat, so you can instantly convert your solo kayak into a tandem in no time.
Therefore, if you think that you'd like to paddle both solo and tandem, you must search for a kayak with an adjustable paddler capacity. The good news is that most modular kayaks come with this functionality, but it's important to double-check for this feature before you buy.
Weight Capacity
The weight capacity is one of the most important yet most commonly overlooked specifications of any kayak. Manufacturers specifically test kayaks to see how much weight they can safely carry while on the water, so paying close attention to this metric is critical for your well-being as you paddle.
As a general rule, paddlers should avoid loading a kayak beyond 80% of its total weight capacity. Doing so helps to ensure that your kayak performs to the best of its abilities. For example, if you and your gear weigh about 200 lbs, you'll want to look for a kayak that can accommodate at least 250 lbs on the water.
That being said, there are a few things to note regarding the weight capacity of modular kayaks.
First and foremost, we should mention that modular kayaks tend to have reasonably low weight capacities when paddled solo, especially when compared to other recreational kayaks. While many standard solo recreational kayaks have weight capacities in the 300 lbs to 350 lbs range, most modular kayaks can't accommodate more than 300 lbs.
It's also worth stating that most modular kayaks have two weight capacities—one for when they're paddled solo and one for when they're paddled tandem. Interestingly, many modular kayaks have respectable tandem weight capacities in the 500+ lbs range, so they're often an excellent choice for a wide range of paddlers.
Regardless of whether you paddle them solo or in tandem, though, it's critical that you consider the weight capacity of your modular kayak before you buy to help ensure your safety on the water.
Stability, Maneuverability & Tracking
As with any boat, the designers of modular kayaks often have to balance maneuverability, stability, and tracking ability in their vessels.
With kayaks, maneuverability, stability, and tracking ability on the water are the result of many small design features, from the width of the kayak itself to the shape and construction of the hull. As you can imagine, modular kayaks are no exception to this principle.
The thing to remember with modular kayaks is that there's no one-size-fits-all model. While some paddlers will prefer the enhanced stability that comes with the wide, mostly flat hull of a fishing-specific kayak, others would rather have the increased tracking ability of a longer, narrower touring kayak.
In reality, finding the right blend of stability, maneuverability, and tracking ability in your modular kayak starts and ends with knowing precisely what you're going to use your kayak for.
As we've already mentioned, modular kayaks are designed for a wide range of different types of paddling. So, narrowing your search down to only include the types of kayaks that are most appropriate for your preferred paddling style will help ensure that you get a model that's tailored to your specific performance needs.
Portability
By design, most modular kayaks are crafted to be highly portable. They are engineered to quickly disassemble into smaller pieces for easier transport in your vehicle and simplified storage at home.
However, even within the world of modular kayaks, some are more portable than others.
For example, the weight and overall length of a modular kayak can vary significantly from model to model. Of course, you can always disassemble the kayak into its various pieces, but it's still worth paying attention to the overall size of your kayak before you invest. In particular, you'll want to consider the total weight and size of each of its modular units.
While some of the shorter recreational kayaks have relatively small modular units that can easily fit in the back of a modest-sized crossover vehicle, some larger modular kayaks, like the Point 65 Kingfisher have units that can only fit in the back of an SUV.
Plus, each section can weigh upwards of 40 lbs, which is another portability-related consideration to keep in mind as you shop.
As a result, it's essential to consider both the overall weight and size of a modular kayak and the weight and size of each of the sections. That way, you get a kayak that's portable enough for your needs.
Comfort
If you're going to spend all day on the water, finding a kayak that prioritizes your comfort is vital. Thankfully, many modular kayaks are designed with comfort in mind so that you can enjoy yourself while you paddle.
As far as comfort goes in a modular kayak, the most important things to consider are the seat's design and the size of the cockpit.
These days, many manufacturers have figured out that paddlers strongly prefer to have a comfortable place to sit while on the water, so they've started creating some remarkably comfy seats. The highly breathable and well-padded Point 65 Comfort GTX AIR-Seat is an excellent example of this comfort-focused design shift.
Furthermore, anyone interested in a sit-in kayak should strongly consider the size of their kayak's cockpit. While some paddlers might not mind sitting in a small cockpit, others find that doing so is quite uncomfortable.
Of course, there are limits to the size of a kayak cockpit, and having one that's too big can detract from the overall performance of the kayak. So, if you're concerned about being uncomfortable in your modular kayak's cockpit, it might be worth opting for one of the many sit-on-top models that are available instead.
Gear Storage
If you plan to carry a lot of equipment with you while you're on the water, be that snacks and beverages or camping gear, you may need to look for a kayak that offers plenty of gear storage.
Thankfully, many modular kayaks now offer a decent amount of storage capacity. The majority of models either have above-deck storage options or built-in dry hatches. So, there are plenty of choices available to suit your paddling style.
Do keep in mind, though, that even the best built-in dry hatches aren't truly water-tight. So, if you do want to keep important gear dry while you paddle, be sure to stash it inside a dedicated waterproof kayak bag, too, before placing it in your hatches.
The Verdict
Even though they're relatively new to the paddling world, modular kayaks have quickly cemented themselves as the vessel of choice among a wide range of paddlers, thanks to their versatility and portability.
After extensively researching the best modular kayaks on the market, it's clear that the Point 65 Martini GTX is the winner of our head-to-head matchup.
We particularly like that the Martini GTX offers a blend of comfort, performance, and functionality on the water. The kayak's wide, mostly rounded hull gives it a nice mix of stability and maneuverability, while its well-padded seat helps ensure that you're comfortable as you paddle. It also offers lots of storage space and the ability to paddle solo or with a friend.