Best Ocean Fishing Kayaks
Conquer the open seas with confidence. Check out our roundup of the best ocean fishing kayaks, showcasing superior stability and performance.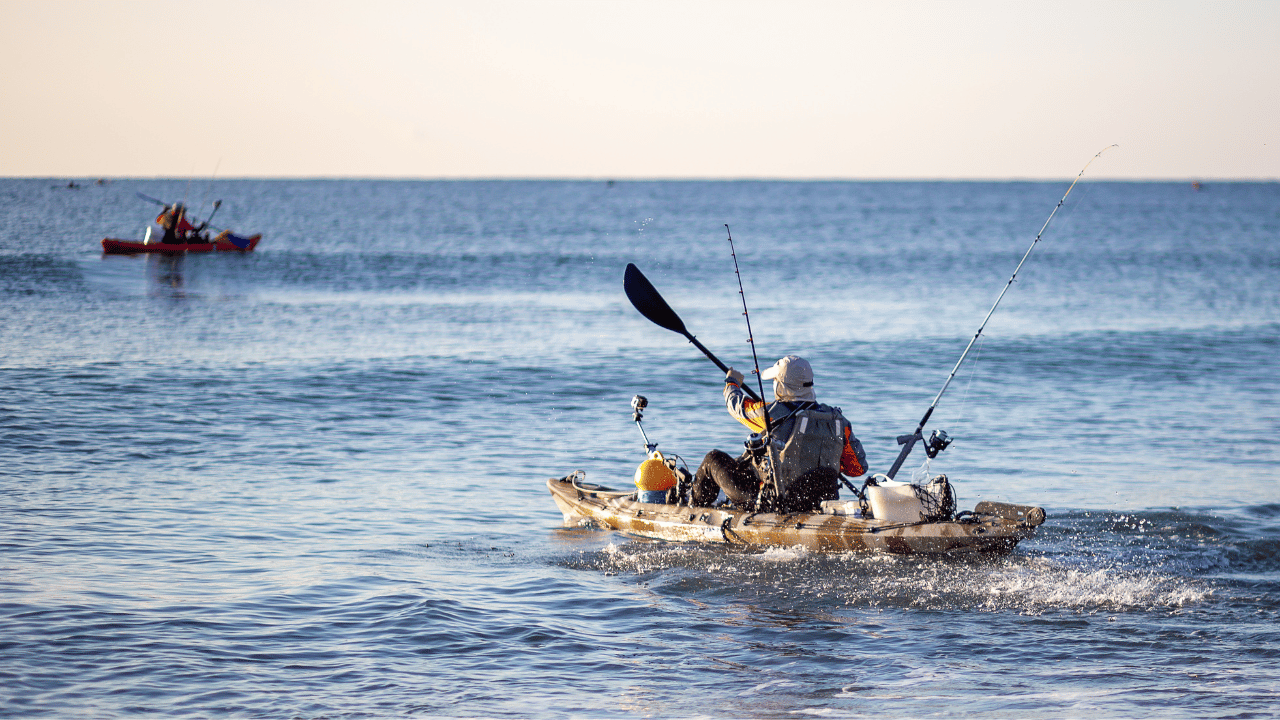 While there are a lot of fishing kayaks that can handle protected lakes, rivers, and bays, many fewer have the stability and performance to stand up to the open ocean. When the shore is far away, you want to know you're paddling a high-performing boat that will get you and your catch home safely.
So we've researched and reviewed the best ocean fishing kayaks in ten categories covering a wide range of types and models. That way, a suitable fishing kayak for you is waiting below.
Our Top Picks
If you're in a hurry, here are our top picks. Or continue scrolling to see our full list with in-depth reviews.
Best Sit-on-Top: Old Town Sportsman BigWater 132
Length: 13′2″ | Width: 34″ | Weight: 86 lbs | Capacity: 425 lbs
Packed to the gills with features and extra accessories, the giant Old Town Sportsman BigWater 132 lives up to its name.
Despite not being especially wide for a sit-on-top of this size, the BigWater still has top-notch stability thanks to the tri-hull design that can handle open water waves and keep on trucking. Standing and casting is easy thanks to the cushy EVA foam pad. While the stand assist strap makes getting up and down more straightforward, even in rough water.
Once you've reached your preferred fishing spot, there's no end to the accessories and gadgets at your disposal. Six separate accessory tracks allow you to trick out your BigWater with whatever gear you want. At the same time, a trio of flush-mounted rod holders keeps multiple poles close at hand.
But the eye-catching feature is the storage area in front of the seat. Here you'll find the self-proclaimed "swiss army knife" center console. Pop open the hinges, and you'll find the perfect layout for all your tackle and gear.
Magnetized fish hook holders, a specific rod tip storage area, more accessory tracks, splash-proof storage for your phone and keys, and more.
For larger items, the BigWater boasts a 425-pound load capacity which should be more than enough for longer trips. Dry storage space can be found in the bow, while an even more significant, open-air storage area has been placed behind the seat and secured with bungee cords. Add in the comfortable seat, and the BigWater is an easy choice for the best sit-on-top available.
Shorter Sit-on-Top Alternative: Jackson Kayak Coosa HD
Length: 12′6″ | Width: 34″ | Weight: 83 lbs | Capacity: 425 lbs
The Jackson Kayak Coosa HD measures eight inches shorter than the BigWater from Old Town and, in many ways, operates like a slightly smaller model. However, the width and weight are the same. This, coupled with the shorter keel, means the Coosa travels a little slower.
I prefer the seat of the Coosa to the BigWater, thanks to the clever setting that allows you to raise and lower it. The higher setting is a great alternative when fishing if you'd prefer not to stand (which the Coosa is stable enough to accommodate). In addition, the high seat improves your view of the water and increases casting accuracy.
Custom options are similar with Jackson Kayak's gear track system allowing you to accessorize however you see fit. Multiple rod holders and a transducer scupper keep fishing rods in place, and the scupper can fit most fish finders. There's a similar central storage console like the one found on the BigWater. However, it doesn't have quite the same number of accessories.
The big stern transom can fit some trolling motors, such as the PowerPole and Torqeedo models allowing you to make up for the Coosa's slightly slower speed. Altogether, the Coosa provides a competitive model in a smaller keel while offering many of the same features and identical load capacity.
Best Sit-Inside: Jackson Kayak Kilroy
Length: 12′4″ | Width: 31″ | Weight: 71 lbs | Capacity: 325 lbs
There are far fewer sit-inside fishing kayaks on the market, so we take notice when one as impressive as the Jackson Kayak Kilroy pops up. What caught my eye was the Kilroy's ability to allow anglers to stand and cast, a rarity among sit-in kayaks. Thanks to the standing pad being below the waterline, the Kilroy feels stable and secure.
While it is a sit-in, the cockpit still feels wide and roomy, able to fit various shapes and sizes. In addition, the seat is well padded and can be adjusted horizontally and vertically.
While there's only one dedicated dry storage spot in the stern, the area in front of the cockpit has been left open, providing you with plenty of space to keep bulkier items. However, the load capacity is noticeably smaller than the bigger sit-on-top kayaks mentioned above, coming in at just 325 pounds.
The custom features you'd expect to find in a Jackson Kayak are here. Multiple gear tracks allow you to customize your Kilroy however you want. I love the side rod holders that provide plenty of protection for your fishing poles. The included tech deck fills the same role as a central console storage area, perfect for fishing lures and other smaller items.
Best Value Sit-Inside: Old Town Loon 126 Angler
Length: 12′6″ | Width: 31″ | Weight: 60 lbs | Capacity: 450 lbs
Old Town returns to the list with this cost-effective model that doesn't scrimp on features even with the lower price. Despite having similar dimensions to the Kilroy, the Loon 126 Angler far exceeds it when it comes to load capacity, capable of handling just as much weight as the bigger, bulkier sit-on-top models.
Like the Kilroy, though, the storage space isn't vast. You do get a big stern hatch that's watertight, and the cockpit area in front of your feet has been left open, providing more storage in the bow. But you may be hard pressed to maximize the 450-pound load capacity.
This is another model with a central console/work deck feature that gives you the perfect platform to lay out and organize your fishing tackle and other gear. Again, the standard, flush-mounted rod holders are built into the hull, and I like the anchor trolley system that keeps you from drifting off your fishing hole. But the custom options are not as robust as other models.
The seat is very comfortable and easy to adjust. Still, you don't get the same up and down flexibility that you get in the Jackson Kayak models. It's also not designed to stand up in, leaving you to cast from a seated position only.
Best Lightweight: Eddyline Caribbean 14 Angler
Length: 14′ | Width: 29″ | Weight: 50 lbs | Capacity: 350 lbs
With the svelte design of a touring kayak, the Eddyline Caribbean 14 Angler blurs the lines between sit-in and sit-on-top.
The recessed cockpit places your center of gravity closer to the water, allowing it to be stable despite its narrower width. In addition, the streamlined design allows the Caribbean to glide across the water in a fashion you wouldn't expect from a fishing kayak.
But the cockpit is big and open, with the feel of a sit-on-top kayak. Waiting for you in the cockpit is an adjustable seat and a single rod holder with two more located just behind the seat. A pair of accessory tracks run along both sides of the cockpit, so there's plenty of room for customization.
You don't get the gear deck or central console of the kayaks listed above. Still, a small day hatch between your legs can hold smaller items, though it will be harder to keep it organized.
The load capacity is slightly low, but 350 pounds should still be more than enough. And the storage options are numerous. In addition to the small central hatch, another watertight hatch is in the bow. At the same time, the entire stern has been dedicated to a tankwell storage area that's open-air and secured with bungee cords.
Best Tandem: Jackson Kayak TakeTwo
Length: 13′9″ | Width: 37″ | Weight: 110 lbs | Capacity: 500 lbs
The Jackson Kayak TakeTwo is a big, sturdy boat that comfortably fits two people. Designed to be paddled both solo or tandem, the TakeTwo performs well on the water in either composition despite the wide hull.
Speaking of that wide hull, it gives the kayak excellent stability so you and your paddle partner can both be casting without fear of the boat rocking or capsizing. In addition, the same comfy seats you expect from Jackson Kayak are here with a reasonable amount of legroom and the ability to adjust the seat up and down in addition to back and forth.
The load capacity is huge, but the second seat takes up a lot of room, so there's not as much dedicated storage space as other solo kayaks. The boat includes Jackson Kayak's TriTrak system, where gadgets and electronics can be installed, all while keeping any necessary wires out of the way.
I usually don't worry much about what color my kayak is, but the TakeTwo's color options made me stop, and not necessarily in a good way. This is purely aesthetic, so you may not mind but be warned if you're opposed to neon colors.
Best Inflatable: Sea Eagle 385fta FastTrack Angler Series
Length: 12′6″ | Width: 36″ | Weight: 45 lbs | Capacity: 635 lbs
With a huge load capacity and width of 36-inches, you could be forgiven for mistaking the Sea Eagle 385fta for a raft on the water. The fact that you can install a motor that weighs up to 15 pounds on the stern transom only adds to the impression that you're in a pontoon boat as you zip across the water.
But the 385fta serves well in a kayak fishing capacity with plenty of room for gear. However, there is a lack of dry storage space, so invest in some high-quality dry bags for kayaking to keep your water-sensitive equipment dry.
While Sea Eagle says there's room for up to three people, the 385fta feels much more comfortable with just one person aboard. Even with two people, the 385fta can feel cramped unless it's two smaller paddlers who don't mind sitting cross-legged. This may be fine for short journeys, but longer paddles may feel uncomfortable.
You don't get the same custom features that hard-sided kayaks can provide. But the set-up and inflation process is straightforward and intuitive. At the same time, the lightweight material is still super durable and makes transporting to and from the water simple and easy.
Best Pedal: Jackson Kayak Knarr FD
Length: 13′9″ | Width: 37″ | Weight: 140 lbs | Capacity: 425 lbs
While a few kayaks on this list can fit a small motor, there's another avenue of propulsion you can explore if paddling isn't for you. Welcome to the world of pedal kayaks, which meshes seamlessly with kayak fishing as it leaves your hands free for casting while you're moving.
The best of these is the Jackson Kayak Knarr FD. While it's heavy and bulky, this is the status quo for pedal kayaks which require a lot more hardware than their simpler counterparts. The Flex Drive Mark IV pedal system has been under development for years, resulting in a durable and quiet design that won't spook fish and is efficient to pedal.
The steering system is equally impressive and can be done with one or two hands, allowing the Knarr FD to make tight turns and weave through obstacles that shouldn't be possible with a boat this large.
Once you've reached your preferred fishing location, Jackson Kayak's TriTrak customization system awaits so that all of your favorite fishing gadgets are close at hand. A pair of flush-mounted rod holders can be found right behind the seat and are easy to access.
Two huge watertight storage hatches round out the impressive feature lineup, allowing you to take full advantage of the Knarr FD's 425-pound load capacity.
Best Value Pedal: Old Town Sportsman BigWater PDL 132
Length: 13′2″ | Width: 36″ | Weight: 122 lbs | Capacity: 500 lbs
Slightly smaller than the Knarr FD, the Old Town Sportsman BigWater PDL 132 is still more than capable of handling open water with excellent stability and an easy-to-use, award-winning pedal system.
I love the reassuring stability of the BigWater, and a spacious traction pad in front of the seat makes standing and casting for long sessions easy and comfortable.
The pedal system is intuitive and allows you to go forward or backward with little trouble, while steering is easy to master thanks to the durable rudder.
You wouldn't expect Old Town to send you out without all the necessary customization options we demand in our fishing kayaks, and the BigWater doesn't disappoint. Not only do you get the accessory tracks and flush-mounted rod holders, but a transducer mount has also been built into the hull, allowing you to easily install a fish finder.
Old Town take their boat's load capacities seriously, and the BigWater PDL is no exception. That's not a typo. It can handle up to 500 pounds of gear without sacrificing stability or performance. Moreover, you can take advantage of all that storage with the huge dry hatch in the bow and even larger, open-air storage space in the stern.
Best Motorized: Old Town Sportsman Autopilot 136
Length: 13′6″ | Width: 37″ | Weight: 158 lbs | Capacity: 660 lbs
We've discussed several kayaks that can have a motor installed if you wish, but here we highlight a kayak specifically designed for this purpose. The Old Town Sportsman Autopilot 136 comes with a saltwater-ready, 12V motor, which allows it to easily cut through wind and waves and leave your furiously paddling brethren in the dust.
The Autopilot lives up to its name with Old Town's Spot-Lock technology, which will help keep you in position even if the wind or tide are buffeting you around. But, the technological marvels don't end there. The Autopilot also features the i-Pilot remote, allowing you to control your course via Bluetooth.
A thru-hull wiring kit allows you to install other electronics without worrying about tripping over any wires, and the expected accessory tracks let you bring along other gadgets that you deem necessary for a successful fishing outing.
Even with the 45-pound engine, the Autopilot has a considerable load capacity. However, I wish they'd included a little more dry storage space than the small bow storage area. The stern tank-well is enormous, though, and capable of fitting most large items.
Ocean Fishing Kayak Comparison Table
Ocean Fishing Kayak Buying Advice
While it's important to understand the pros, cons, and differences between individual kayak types, it's also vital that you have a solid foundation of what exactly sets these boats apart.
Our buying advice is set up to teach you what makes a kayak fast or slow, stable or wobbly, and how to spot a durable design versus a cheap imitation that is best avoided.
Sit-Inside vs. Sit-on-Tops
Kayaks fall into one of these two categories, and their performance and stability can vary significantly.
Sit-in kayaks tend to be the narrower of the two designs. This makes models like the Jackson Kayak Kilroy more efficient to paddle with a better top speed and less energy necessary to get them up to cruising speed.
This is due to the seat and cockpit being placed near the waterline. Since your center of gravity is closer to the water, sit-in kayaks can afford to be narrower without the risk of capsizing in adverse weather conditions. Often the design of the cockpits also allows for more dry storage space.
Sit-on-top kayaks have their seats higher above the water, necessitating a wider hull to keep them stable. Most fishing kayaks fall into this category as they are wider, more forgiving kayaks with more space for the paddler and all the custom features.
The drawback to this design type is they're more cumbersome to paddle and tend to be less responsive. Therefore, requiring more effort to maintain speed, especially with strong winds or waves. However, this likely won't be a huge issue in most cases unless you're planning on paddling several miles to reach your fishing area.
Material
All the hard-sided kayaks on this list are made of a tough, rigid plastic known as polyethylene. While many kayak brands have patented their own specific form of this material, the overall weight and performance are similar.
Polyethylene is cheaper than lighter materials like fiberglass, requires little upkeep, and is resistant to damage if you drop, bump, or scrape your kayak.
The Sea Eagle 385fta is made of a tough, reinforced, drop-stitch kayak material, making it one of the tougher inflatables. But, of course, you can't run it hard onto the beaches. Still, the occasional impact with an underwater hazard shouldn't ruin your day.
Speed
The two specifications that significantly affect a kayak's speed are keel length and hull width. The longer a kayak's keel, the faster it can go. At the same time, narrower hulls provide less water resistance and are more efficient.
This makes thinner, longer boats like the Eddyline Caribbean 14 Angler noticeably faster than some bulkier models, like the Old Town BigWater 132 or Jackson Kayak Coosa HD.
All of this is assuming that you're paddling these kayaks. Once you introduce a pedal or motor system, which are options for the Knarr FD or Autopilot 136, these kayaks can easily outrun even the swiftest and most efficiently designed sit-in kayak.
Maneuverability
In general, maneuverability works in opposition to a kayak's speed. Shorter kayaks are easy to control and squeeze into smaller areas as there's less water resistance when changing your direction.
This makes the smallest fishing kayaks, like the Jackson Kayak Kilroy and Old Town Loon 126 Angler, easier to maneuver with your paddle. Though mastering the basic paddle strokes will make handling any of these kayaks much easier.
Again, the optics change when you introduce a pedal system or motor. These kayaks use a rudder that makes them much easier to maneuver even though they are bigger and bulkier kayaks.
Comfort
In most cases, you'll probably be looking at spending several hours on the water while you wait for the fish to bite. If this is the case, you'll want to ensure you have a comfortable, well-padded, and adjustable chair.
Luckily, all the kayaks on this list meet these criteria. All can be adjusted back and forth while providing plenty of padding.
I'll give a slight edge to the Jackson Kayaks due to their seats being adjustable vertically. This may improve your comfort level to some extent and is also handy when casting from a sitting position.
The same goes for the cockpits. Sit-on-top kayaks are naturally roomy with plenty of legroom, but I was impressed with how much space there was even in the sit-in models. While I always recommend sitting in a kayak before you purchase, all these models should be able to fit the large majority of prospective anglers.
Stability & Tracking
Stability is an important quality in all kayaks, but it's essential in a fishing kayak when you'll be shifting your weight more, not to mention the unpredictability of a frantic fish being brought on board.
Again, stability is superb in all the kayaks we've reviewed, but I'll give an edge to sit-on-top kayaks that you can stand and cast from, like the Autopilot 136 and Coosa HD. Sit-on-top kayaks have excellent primary stability, which helps minimize the natural rocking of a kayak that is more prominent in sit-in kayaks.
This isn't to say that the sit-in kayaks are unsafe. In fact, even some of the sit-in models on this list, like the Kilroy, allow you to stand and cast confidently. It just may take a little more practice to get used to the extra wobble natural in these narrower designs.
Like a kayak's speed, longer kayaks tend to track through the water better and are less prone to getting blown off course.
Many of the kayaks on this list are pretty comparable when it comes to length. Implementing a rudder in the Autopilot 136 and steering system of the pedal drive system in the Knarr HD can also help with tracking, especially in the wind or waves.
Durability
Along with cost, durability is the most significant advantage of using polyethylene plastic. You can expect these kayaks to last a long time without requiring much care or maintenance on your part. Drops, collisions, or rough landings shouldn't leave lasting damage in most situations.
Which doesn't mean you should treat your kayak with impunity. If you can, avoid dragging your kayak long distances and use caution when landing on rough, rocky beaches. This will help minimize scratches and grooves in the hull, decreasing your kayak's efficiency and speed.
While most kayaks are advertised as UV resistant, I'd still recommend storing your kayak out of direct sunlight if possible to ensure that extended exposure doesn't weaken or warp the hull.
Inflatable kayaks have earned a negative reputation, and there are some cheap options out there that spring leak with the slightest bump.
The Sea Eagle 385fta isn't one of these. Of course, I'd be careful landing on beaches and never drag it over rocks, but with a few basic precautions, you can expect it to last a long time too.
Portability & Storage
The drawback to these large kayaks is they tend to be some of the heavier kayaks for their size. Unfortunately, this list is no different, with several models tipping the scales at over 100 pounds. Pedal kayaks and motor-compatible kayaks are especially heavy due to the extra hardware.
Well-designed and padded carry handles are helpful but still plan on having two people available to help move these kayaks to and from the water. If you are on your own a lot, consider investing in a kayak cart so you can safely transport your kayak.
The notable exceptions on this list include the Eddyline Caribbean 14 Angler. The thin, lighter hull weighs just 50 pounds, while the inflatable Sea Eagle 385fta weighs even less without any gear onboard.
If you'd prefer to go another route but still want something that weighs a little less, consider the Jackson Kayak Coosa HD. 83 pounds is still heavy, but at least it's below 100 pounds.
For storage, all of the hard-sided kayaks on this list have at least one dry storage space though they're not all created equal. For example, I wish the Autopilot 136 had a larger hatch, but I love all the dry storage areas that come with Knarr HD.
For load capacity, all have ample room for multi-day adventures, the two possible exceptions being the Caribbean 14 and Kilroy. But with some clever packing, I bet you can make their 350 and 325-pound load capacities work.
The Verdict
With such a diverse offering of ocean fishing kayaks, you have the luxury of finding a kayak that's well tailored to your angling goals. We love the Old Town Sportsman BigWater 132 and Jackson Kayak Kilroy. These are high-quality options with plenty of custom options, whether you prefer a sit-on-top or a sit-in.
If you're willing to make a significant financial investment, motorized kayaks like the Old Town Sportsman Autopilot 136 can open up a whole new world of fishing and kayaking, unlocking secret fishing holes you never knew existed.
Whatever route you take, either the traditional paddle models or the new age pedal and motor designs, we hope this article has helped steer you in the right direction.